Jacques et Claude belong to a group that gives concerts regularly in Le Havre where they live and in the Normandy region.
They are particularly noted for their interpretation of the songs of Georges Brassens, a contemporary of Edith Piaf.
Acclaimed as a wonderfully original, singer, songwriter and poet, Georges Brassens enjoyed a huge reputation in France but rarely ventured outside.
For Jacques et Claude performance a screen will display translations into English for those less fluent in French !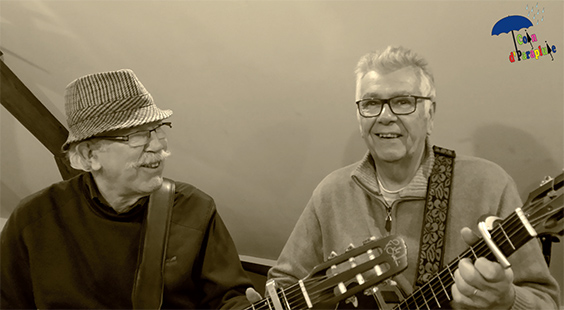 You can hear them on
Thursday, April 19th ~ THE LANSDOWN, CLIFTON, BRISTOL 8
7.30pm
&
Saturday, April 21st ~ ST JAMES WINE VAULTS, BATH
7.30pm
FREE ENTRY ~ Venez nombreux !
Contact Email Jacques & Claude : coindeparapluie@orange.fr