"Are you interested in the development of the Bristol City Region ?"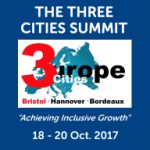 "The challenge of growing the economy, whilst ensuring that all our citizens are included in a prosperous future, is one we face today. This could be a further challenge with Brexit on the horizon. One of the ways we can contribute to the development of our city in a post-Brexit world is to work with other forward-looking cities in Europe with similar high tech and creative industries. Our long-term relationships with our twin cities of Hanover and Bordeaux offer us the opportunity to build on a great platform of friendship and understanding, to develop deeper collaboration and trade growth.
We can also learn from each other and improve the quality of life, social economy and cultural experience in our cities.
Attend the Three Cities Conference to discuss developing our cities through 'Inclusive Growth' on the 19th October at The Bristol Hotel.
Please visit our website at www.3citiessummit.com and follow instructions to reserve your place on the Bookings page".
Alastair Watson
Chair of Organising Committee
Three Cities Summit 2017
Bristol – Hannover – Bordeaux