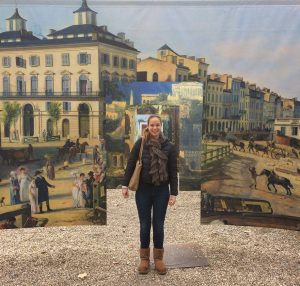 Poppy Madaras-Smith has now finished her placement in Bordeaux with the Association Bordeaux-Bristol.
Thank you Poppy for this report !
"This past term, as part of an Erasmus year, I spent five months in Bordeaux working at the Association Bordeaux-Bristol. As a modern languages student with the Erasmus scheme behind me I had various options as to where to go and what to do but I can say, in all honesty, that I could not have picked a better placement. The Association, which is right on the river Garonne with a view of the Pont de Pierre, is the kind of place that, despite having spent September to January there, I find difficult to describe. The sense of community is wonderful.
 Even though everyone there was a volunteer and popped in only when they had time, the twinning committee and all its members could not have been more welcoming and supportive towards me. By the time I left after Christmas, weighed down by presents, good wishes and offers of somewhere to stay next time I'm back, I really felt a part of their team and personally invested in the future of the twinning between Bordeaux and Bristol. It was brilliant to work in a place where people were so passionate about what they were promoting. Everyone that I met had a nostalgic story to tell about Bristol and something good to say about the British … Brexit only seemed to be motivation to work harder to create and nurture friendships.
It was a pleasure to help with the preparation for the school exchanges and I really hope that future generations will continue to see the value in them as I now do. As the level of interest on the Bristol side is a little lower, I will happily do my best once back in Bristol next September to help generate enthusiasm in local schools. Bristol's link with Bordeaux can offer so much not just to children but anybody who is interested. The opportunities I got whilst there were invaluable in terms of work experience and I got the chance to live in a new country and feel like a local rather than a tourist. That said, I definitely recommend Bordeaux as a tourist destination! As a small city, with a good selection of small museums (such as the Musée des Beaux Arts), fantastic food and a compact city centre with amazing things to see all within walking distance of each other, it's a great place to go if you have no more than a weekend free.
I would like to thank everyone at the Association Bordeaux-Bristol for being such generous employers and hosts and look forward to my next visit which hopefully won't be too far away. Lastly, I would also like to thank Alix Hughes for helping to make this placement possible. It just goes to show how chatting to the person you sit next to in the Bristol Cathedral can lead to great opportunities!"